Stamp sheets for various wartime documents
Since 2011, we have offered sets of stamps for working on Nazi era military and civilian documents, for props and displays. To make these documents look realistic requires a lot of different stamps, which would be expensive to buy individually. We can supply the needed stamps in the form of sheets of unmounted stamps, each one painstakingly copied from original documents in our collection. There are no fantasy stamps here, these are all direct reproductions of original stamps from 1935-1945. We take great pride in making exact, perfect copies of original stamps, in the correct original size. There are stamps here that can be used for every branch of the Wehrmacht, as well as for the Waffen-SS, and civilian documents as well. Each sheet measures 5.5 inches by 8 inches and is made from top quality, European made, real rubber material, laser etched with precised detail in the USA. Every stamp set comes with a sheet of double-sided adhesive foam cushion material for you to mount these stamps to your handles, a guide for cutting up the sheet, and a guide with information about each stamp and how it was used.
We don't have any handles to sell. You can buy rubber stamp handles from other suppliers, buy old stamps and re-use the handles, make your own handles, or simply use wooden blocks. If you need stamps with handles we are happy to offer those individually.
The price for each sheet is $49 plus shipping. These sheets are usually in stock and ready to ship. To order, please e-mail us at intrenches1945@gmail.com.
Shipping rates: The cost to ship one sheet is $5 in the USA, $11 to Canada, $18 to Europe. The cost to ship multiple sheets is $6 in the USA, $18 to Canada, $28 to Europe. Orders will ship in padded envelopes.
Stamp Sheet #4: Waffen-SS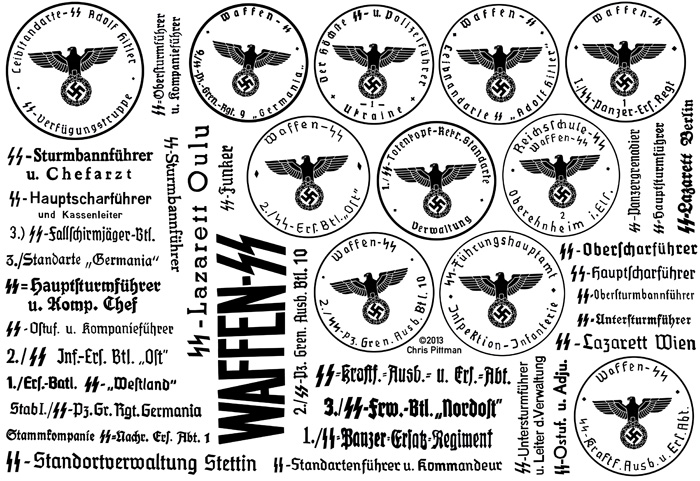 Set #4 contains 42 stamps for the Waffen-SS. None of these appear on any of the other sheets. These are all exact copies of stamps from original documents, I have focused on stamps for the Soldbuch but many of them can also be used on a wide variety of military documents including the Wehrpass and all kinds of IDs, award documents, leave passes, etc. I have tried to choose a representative assortment of different units and unit types with a focus on training and replacement units as these were the units that usually issued the Soldbuch, Führerschein and other basic IDs.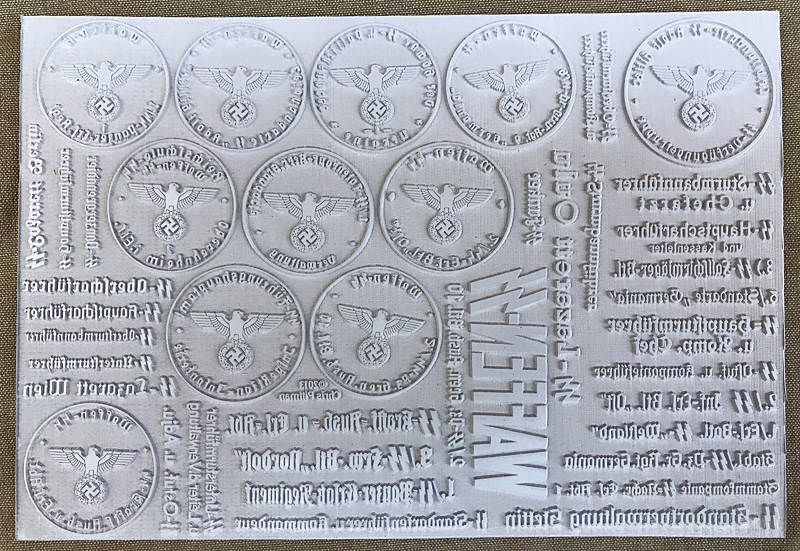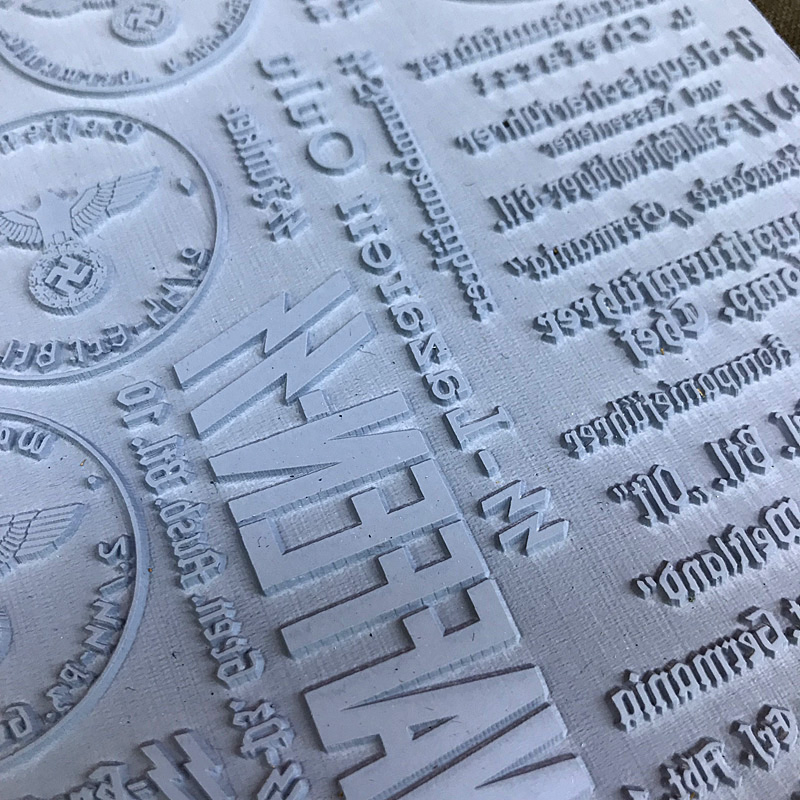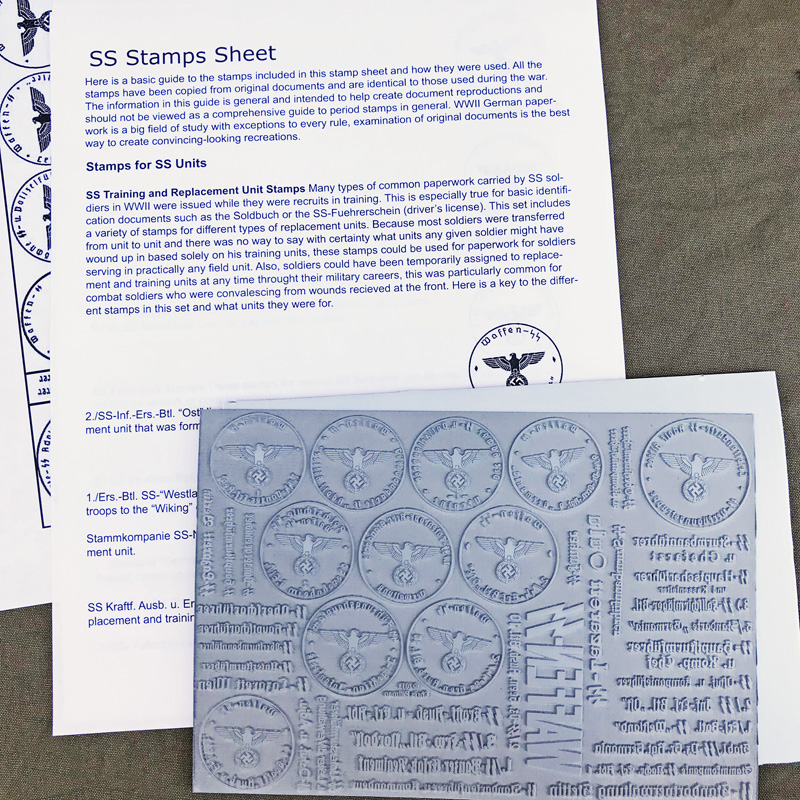 Stamp Sheet #4 includes the following stamps:
SS Rank Stamps:
-SS-Standartenführer u. Kommandeur
-SS-Obersturmbannführer
-SS-Sturmbannführer u. Chefarzt (SS Doctor)
-SS-Sturmbannführer
-SS-Hauptsturmführer u. Komp. Chef
-SS-Hauptsturmführer
-SS-Obersturmführer u. Kompaniefuehrer
-SS-Ostuf. u. Kompanieführer
-SS-Ostuf. u. Adju.
-SS-Untersturmführer
-SS-Untersturmführer u. Leiter d. Verwaltung
-SS-Hauptscharführer u. Kassenleiter
-SS-Hauptscharführer
-SS-Oberscharführer
SS Training and Replacement Units:
-1./SS-Panzer Ersatz Regiment round and line stamps
-2./SS-Pz. Gren. Ausb. Btl. 10 round and line stamps
-2./SS-Inf. Ers. Btl. "Ost" round and line stamps
-SS-Kraft. Ausb. u. Ers. Btl. round and line stamps (SS Transport training/replacement unit)
-SS-Totenkopf Rekr. Standarte – Verwaltung round stamp
-1./Ersatz Btl. SS-"Westland" line stamp
-Stammkompanie SS-Nachr.-Ers.-Abt. 1 line stamp (SS Signals replacement unit)
SS Field Units:
-Leibstandarte-SS "Adolf Hitler" round stamp
-Leibstandarte-SS "Adolf Hitler" SS-Verfügungstruppe round stamp
-3./SS-Frw. Btl. "Nordost" line stamp
-3./SS-Fallschirmjäger-Btl. line stamp
-3./Standarte "Germania" line stamp
-9./SS-Pz.Gren.Rgt. 9 "Germania" round stamp
-Stab I./SS-Panzer-Grenadier-Regiment "Germania" line stamp
SS Hospital Line Stamps:
-SS-Lazarett Wien
-SS-Lazarett Berlin
-SS-Lazarett Oulu (Finland)
Rank Stamps for Soldbuch Page 1:
-SS-Panzergrenadier
-SS-Funker
Miscellaneous Stamps
-Waffen-SS line stamp (for Wehrpass cover)
-Reichsschule-SS Oberrehnheim i. Els. round stamp (Waffen-SS school)
-SS-Standortverwaltung Stettin line stamp (SS Area Administration)
-SS-Führungshauptamt – Inspektion Infanterie round stamp (SS Operational HQ – Infantry Department)
-Der höchste SS u. Polizeifuehrer Ukraine round stamp (Highest SS and Police Leader Ukraine)
Stamp Sheet #5: Wehrpass and civilian documents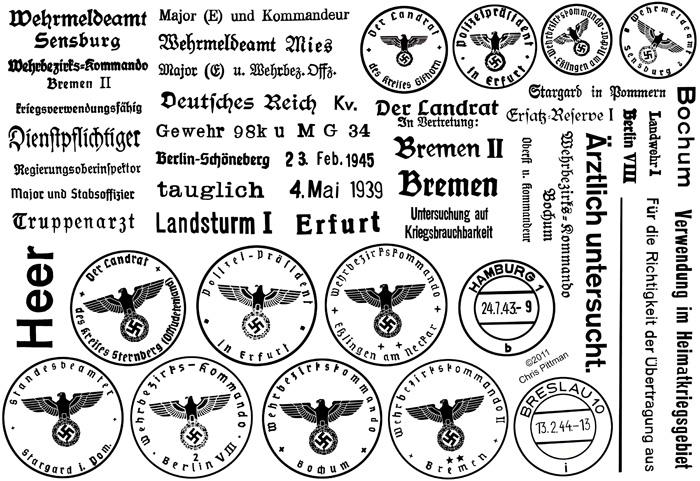 Set #5 contains 47 stamps and focuses on the Wehrpass and Nazi-era civilian documents. The Wehrpass was the linchpin of the elaborate array of forms and documents that was used to keep track of every soldier as he moved through training and replacement units, field units, and hospitals. This important document would be issued by the recruiting authority and then kept by the individual as long as he remained a civilian. When he was called up for service, he would turn in the Wehrpass which would then be kept by his unit and would follow him everywhere he went as a permanent record of his military career. These Wehrpass stamps can also be used for other documents including call-up notices and forms related to recruiting, official correspondence, medical forms, and other documents. The civilian administration stamps on the sheet can be used to fill out a wide variety of paperwork used by civilians as well as soldiers including the Kennkarte, Reisepass, the Führerschein, ration cards, birth/death/marriage certificates, receipts, etc.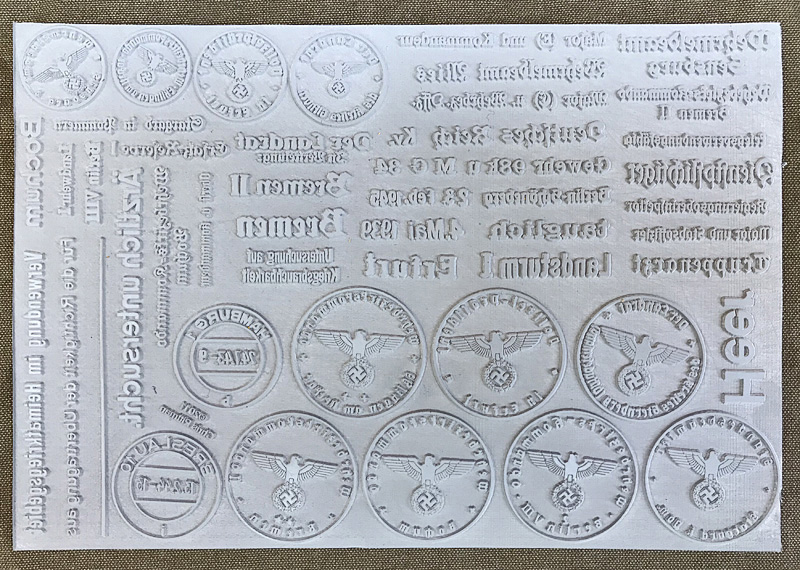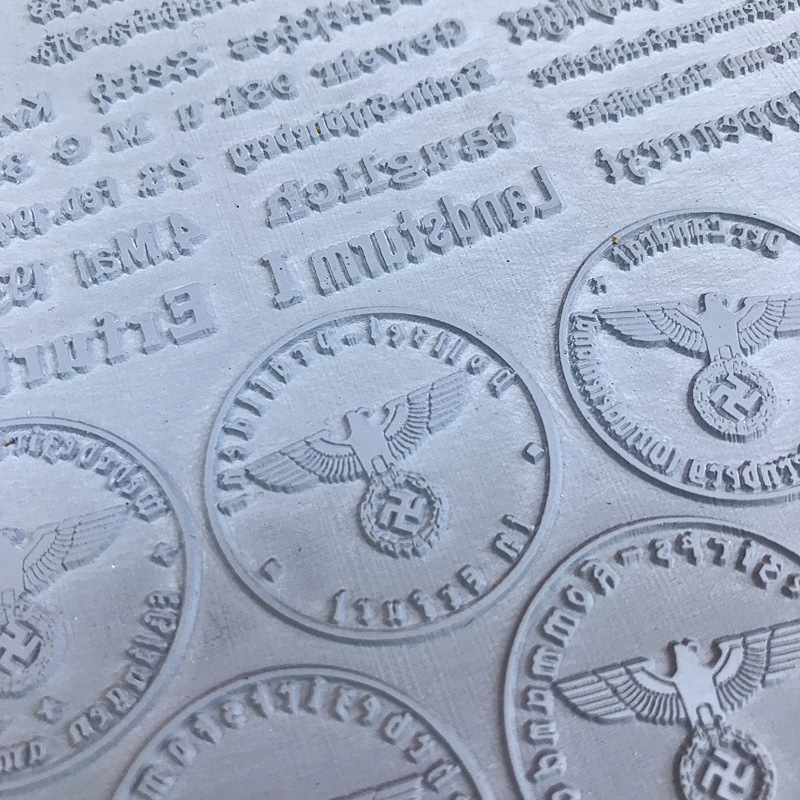 Stamp Sheet #5 includes the following stamps:
Wehrpass stamps Wehrbezirkskommando Stamps
-Wehrbezirkskommando Bremen II: Large round eagle stamp, line stamp, line stamp "Bremen II," location stamp "Bremen"
-Wehrbezirkskommando Berlin VIII: Large round eagle stamp, line stamp "Berlin VIII," location stamp "Berlin-Schoeneberg"
-Wehrbezirkskommando Bochum: Large round eagle stamp, line stamp, location stamp "Bochum"
-Wehrbezirkskommando Esslingen am Neckar: Large round eagle stamp, small round eagle stamp Wehrmeldeamt Stamps
-Wehrmeldeamt Sensburg: Line stamp, small round eagle stamp
-Wehrmeldeamt Mies: Line stamp Miscellaneous Wehrpass Stamps
-"kriegsverwendungsfähig," "tauglich" and "Kv." stamps for soldiers fit for combat duty
-"Dienstpflichtiger" stamp for draftees
-"Deutsches Reich" nationality stamp
-"Gewehr 98 u. MG34" stamp for weapons training
-Service classification stamps "Ersatz-Reserve I," "Landwehr I," "Landsturm I"
-Stamps for physicals: "Untersuchung auf Kriegsbrauchbarkeit," "Aerztlich untersucht"
-"Für die Richtigkeit der Uebertragung aus…" stamp for replacement books/entries copied from other documents
-"Verwendung im Heimatkriegsgebiet" stamp for soldiers stationed in Germany
-"Heer" branch stamp for cover
Rank stamps
-Regierungsoberinspektor
-Major und Stabsoffizier
-Truppenarzt
-Major (E) und Kommandeur
-Major (E) und Wehrbez. Offz.
-Oberst u. Kommandeur
Civilian stamps
-Landrat Kreis Sternberg: Large round eagle stamp
-Landrat Kreis Gifhorn: Small round eagle stamp
-"Der Landrat…" signature stamp
-Polizeipräsident Erfurt: Large round eagle stamp, small round eagle stamp, location stamp "Erfurt"
-Standesbeamter Stargard: Large round eagle stamp, location stamp "Stargard in Pommern" Miscellaneous stamps
-Date stamp 23. Feb. 1945
-Date stamp 4. Mai 1939
-Hamburg postmark 24 July 1943
-Breslau postmark 13 February 1944
Stamp Sheet #6: Feldpost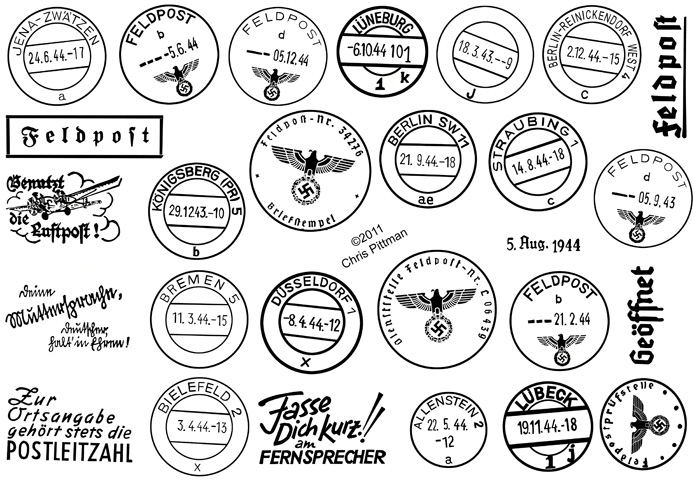 Set #6 contains 22 stamps to be used for Feldpost letters and German WWII mail in general. This set can be used for mail to and from the Front in 1943-44, and civilian mail as well. These stamps have all been exactly copied from original letters, only some dates have been changed to provide a complete range of dates within that time frame. These stamps include postal cancellations, military stamps and even a Feldpost censor stamp and are perfect for "mail call" or simply for creating reproduction letters as props to add detail to an impression. The stamps can be used for letters and also for official mail such as draft notices, death notices, etc.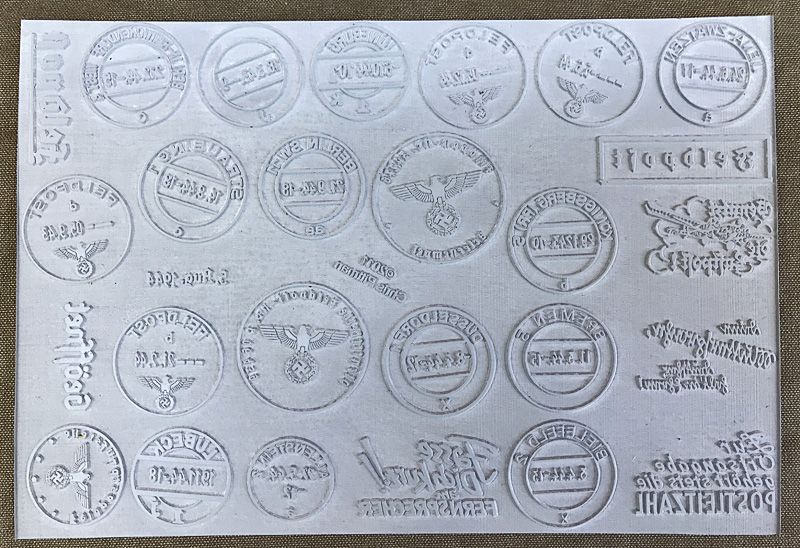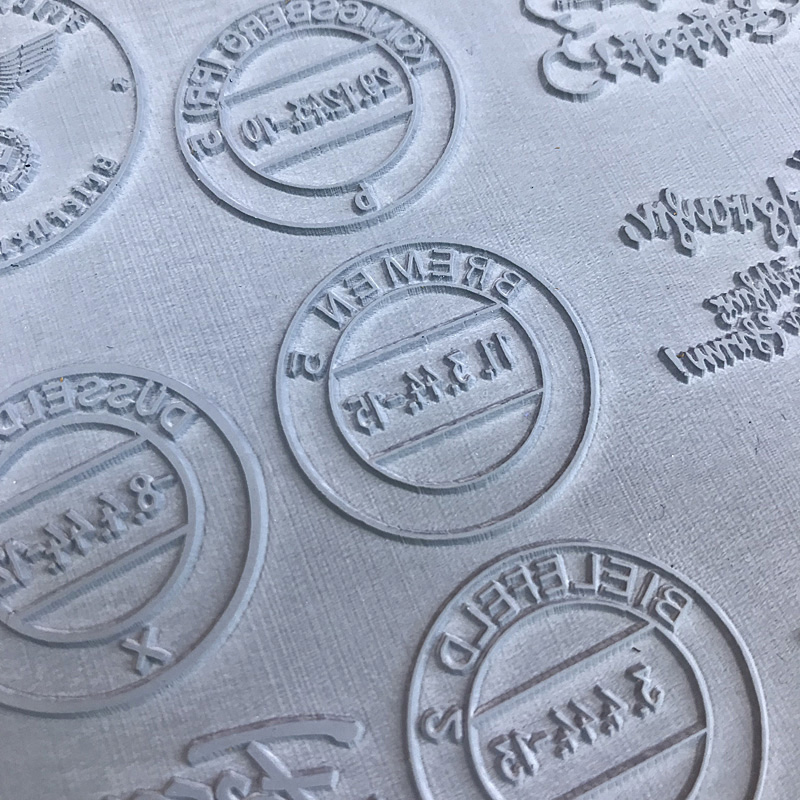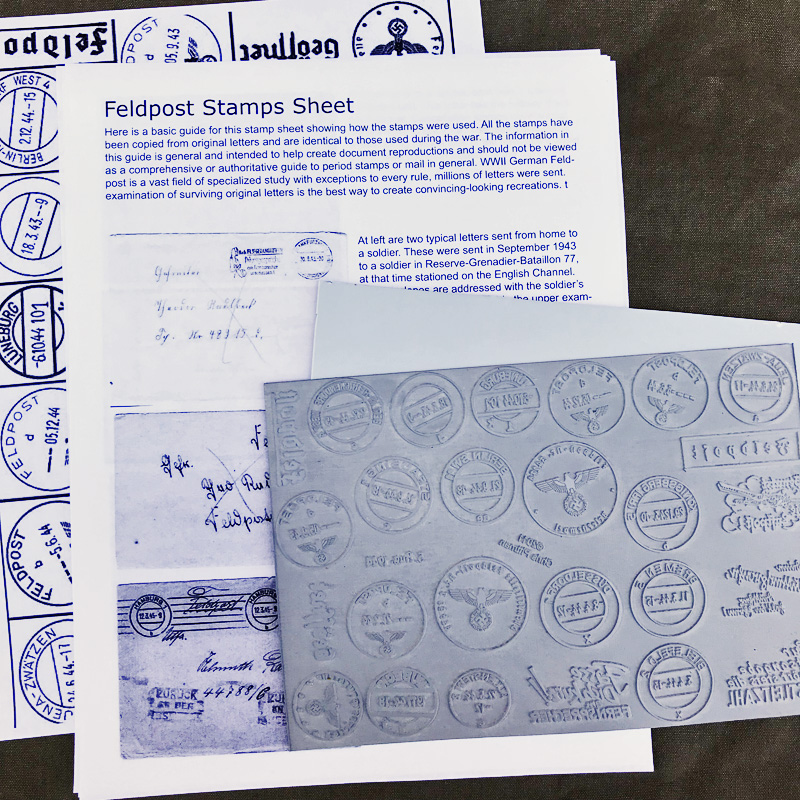 Stamp Sheet #6 includes the following stamps:
Cancels for letters from German towns and cities:
-Königsberg, 29 December 1943
-Bremen, 11 March 1944
-Bielefeld, 3 April 1944
-Duesseldorf, 8 April 1944
-Allenstein, 22 May 1944
-Jena-Zwätzen, 24 June 1944
-Straubing, 14 August 1944
-Berlin, 21 September 1944
-Lüneburg, 6 October 1944
-Lübeck, 19 November 1944
-Berlin-Reinickendorf, 2 December 1944
-Cancel with no location, 18 March 1943
Cancels for letters originating with the military:
-Feldpost, 5 June 1944
-Feldpost, 5 December 1944
-Feldpost, 5 September 1943
-Feldpost, 21 February 1944
-"5. Aug. 1944" date stamp, sometimes used as a cancel
Other stamps for mail:
-"Feldpost" stamp for letters and parcels, 2 versions
-"Briefstempel" round eagle letter stamp for Feldpost-Nr. 34276
-Round eagle Feldpost number stamp for a Luftwaffe unit
-Military censor "opened" stamp
TO ORDER: E-mail us at intrenches1945@gmail.com. The price for each sheet including the instructions and mounting cushion is $49 plus shipping (shipping rates are at the top of this page). Please specify which sheet or sheets you would like; we offer 8 different sets.