Since 2011, we have offered sets of stamps for working on reproduction historical military and civilian documents, for props and displays. To make these documents look realistic requires a lot of different stamps, which would be expensive to buy individually. We can supply the needed stamps in the form of sheets of unmounted stamps, each one painstakingly copied from original documents in our collection. There are no fantasy stamps here, these are all direct reproductions of original stamps from 1914-18. We take great pride in making exact, perfect copies of original stamps, in the correct original size. Each sheet measures 5.5 inches by 8 inches and is made from top quality, European made, real rubber material, laser etched with precised detail in the USA. Every stamp set comes with a sheet of double-sided adhesive foam cushion material for you to mount these stamps to your handles, a guide for cutting up the sheet, and a guide with information about each stamp and how it was used.
We don't have any handles to sell. You can buy rubber stamp handles from other suppliers, buy old stamps and re-use the handles, make your own handles, or simply use wooden blocks. If you need stamps with handles we are happy to offer those individually.
The price for each sheet is $49 plus shipping. Most sheets are in stock and ready to ship. To order, please e-mail us at intrenches1945@gmail.com.
Shipping rates: The cost to ship one sheet is $5 in the USA, $11 to Canada, $18 to Europe. The cost to ship multiple sheets is $6 in the USA, $18 to Canada, $28 to Europe. Orders will ship in padded envelopes.
Stamp Sheet #8: Stamps for WWII German Uniforms and Equipment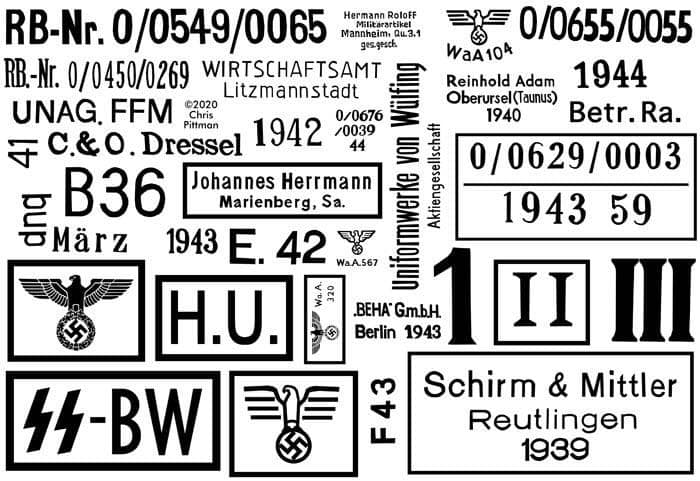 Sheet #8 contains 29 stamps for WWII German uniform and equipment. These are all copied exactly from real items, no fantasy stamps. They are exactly the same as the originals, the same exact size. There are stamps here that can be used to add realism to items like the Zeltbahn, bread bag, caps and uniform items of all kinds, gas mask canisters and filters, clothing bags, straps, Winteranzug parts, the Rucksack, etc. These stamps can upgrade reproduction items as well as surplus postwar kit reenactors use such as underwear and blankets, also commercially available modern personal items such as hand towels. There are Heer and SS stamps, though most of the stamps could be used for items of any branch.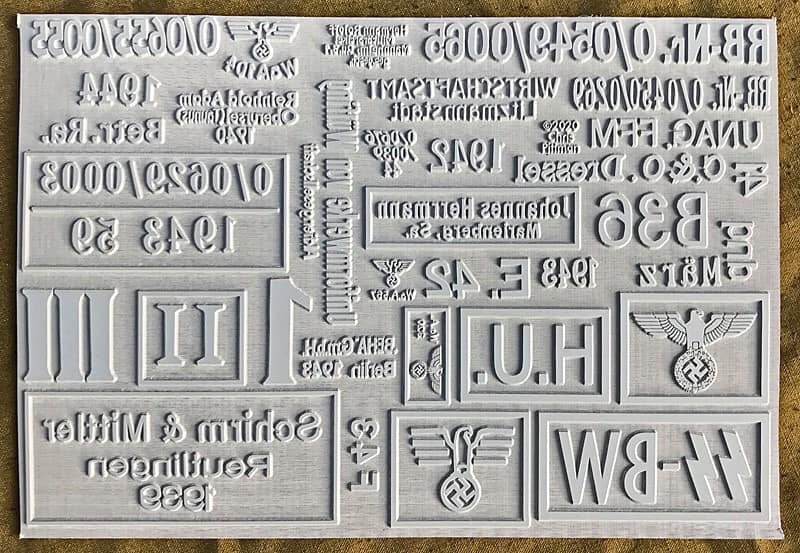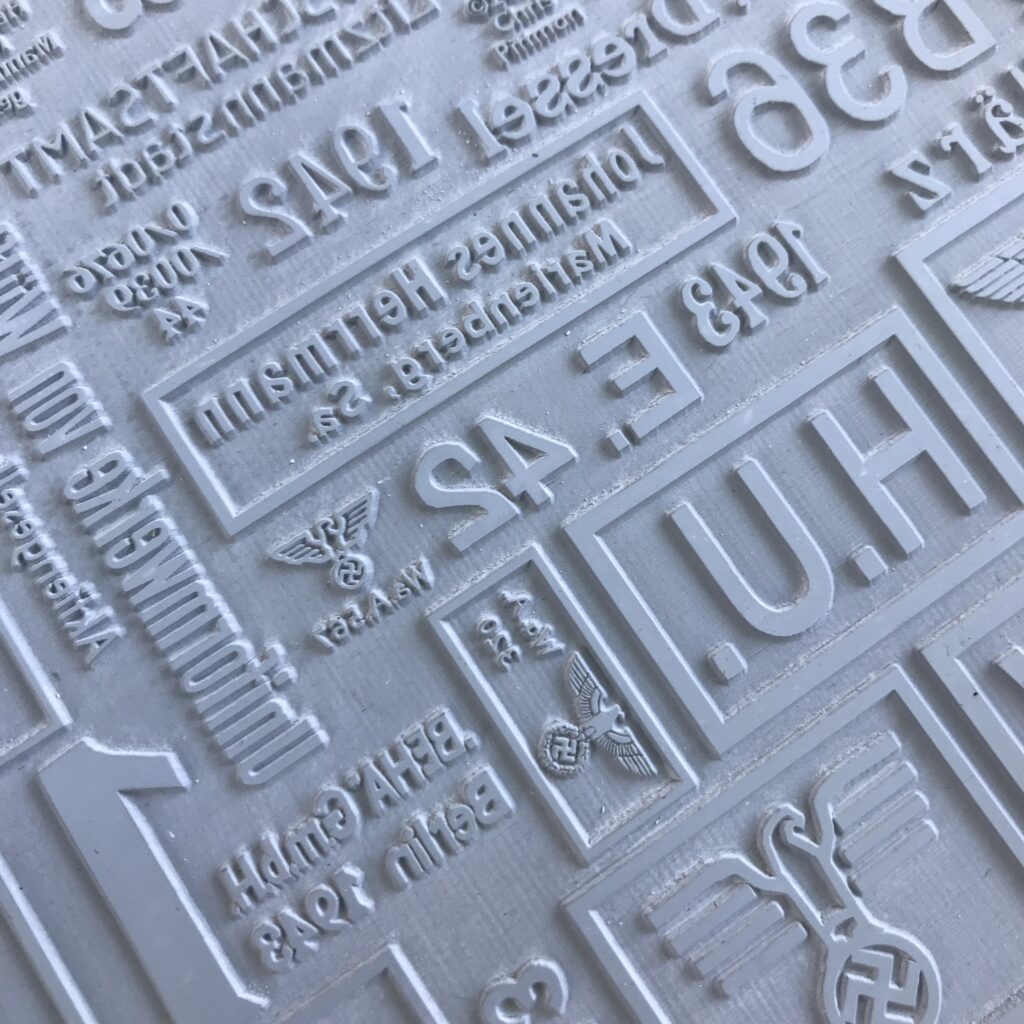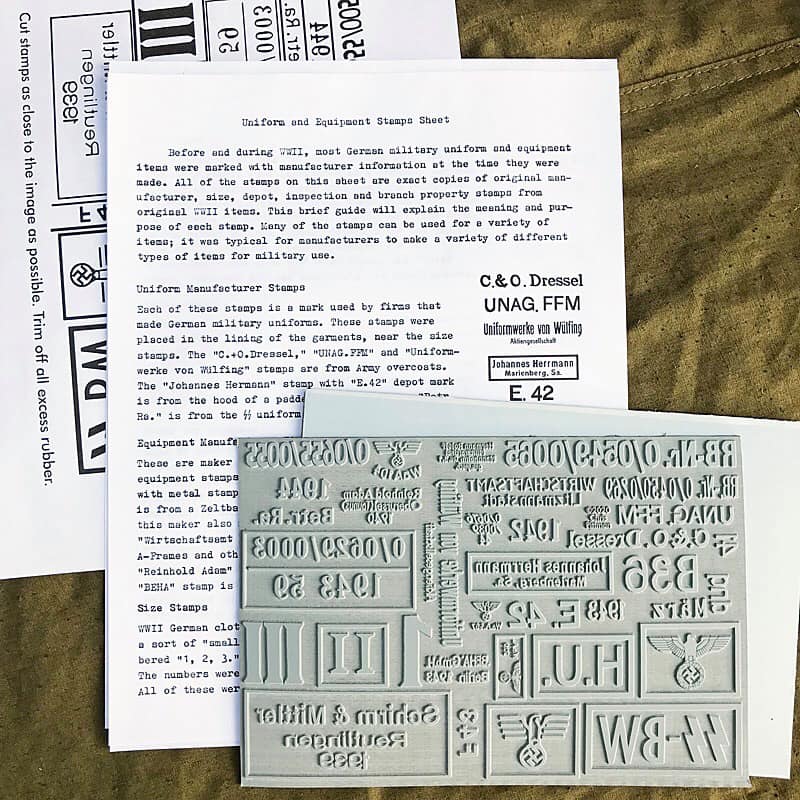 Stamp Sheet #8 includes the following stamps
-5 uniform manufacturer stamps
-5 equipment manufacturer stamps
-Size stamps for sizes 1, 2, 3
-4 RB number stamps (uniform and equipment manufacturers)
-2 depot acceptance stamps
-RB number stamp for field caps
-3 Waffenamt inspection stamps
-Gas mask filter inspection date stamp
-Manufacturer stamp from supplier of "military items"
-"SS-BW" clothing factory stamp
-"H.U." (Army) and Reich property stamps
TO ORDER: E-mail us at intrenches1945@gmail.com. The price for each sheet including the instructions and mounting cushion is $49 plus shipping (shipping rates are at the top of this page). Please specify which sheet or sheets you want to buy, we offer 8 different WWI and WWII stamp sets.