Last updated on June 14, 2021
I've been working on making reproduction Feldpost letters. There is a lot to this project, not only finding the right paper and envelopes but creating stamps for postmarks and replicating and printing stationery, etc. I'm making good progress- here is a scan of some postal cancel stamps I have copied from original letters in my reference collection. Eventually I will have a page on the site featuring the postmarks and stationery for people looking to recreate "mail call" or just have some authentic-looking mail.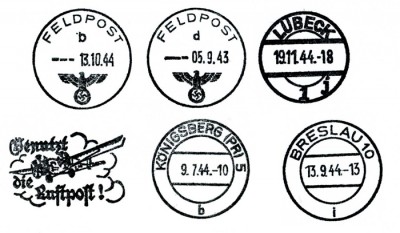 The next batch will have postmarks from Lueneburg, Hamburg, Allenstein and Bremen and another variation of the military Feldpost cancel.